Elevating Law Enforcement's Presence
CRD Wraps is proud to unveil the second installment of our partnership with the St. Lucie County Sheriff's Department and their Explorer Post 400. This time, our mission was to give their custom passenger van a distinctive identity while maintaining the same compelling vibe as the previously wrapped truck and trailer.
Our expert team delivered a full-print wrap with a satin over-laminate, ensuring both durability and a striking finish. To infuse a unique character into the van, we employed custom reflective decal overlays, adding a touch of sophistication and visibility.
CRD Wraps specializes in crafting custom commercial fleet wraps that stand out. While we incorporated similar graphics to maintain brand consistency, we used a slightly different color palette and added special touches to make the van truly one-of-a-kind. This project is a testament to our ability to tailor each wrap to meet our clients' unique needs while maintaining our commitment to quality and excellence.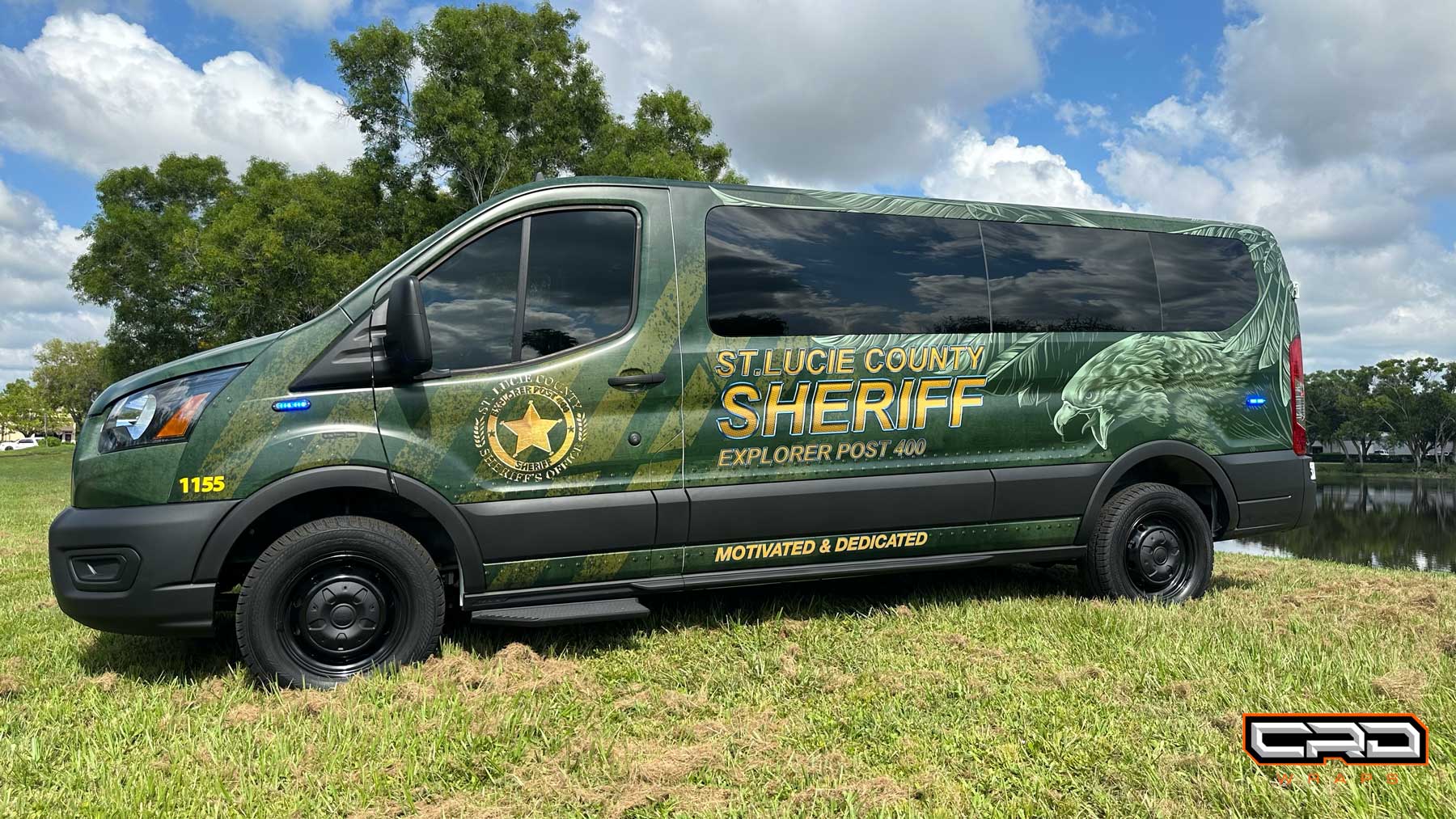 What they say
What an amazing and wonderful experience. I can't begin to explain how talented and how CRD Wraps pay attention to every detail. It was better than what I envisioned, CRD Wraps made my dream a reality. If you're looking for an honest company to provide you with an excellent experience CRD Wraps is the one and only place you should be looking for. Thanks CRD Wraps!

Felix Feliciano


May 8, 2019

Chuck and his Wife are the absolute best. I've had 3 cars wrapped by them, and they've done the impossible to make the cars look AMAZING. Good people, with good work ethics. Chuck on one of the cars even noticed an issue with a cabel that was overheating. Took it on himself to fix it! These people really do go above and beyond.

Ryan Diaz


April 16, 2019

I couldn't be happier with job CRD Wraps did on my boat. They were very helpful in the design process. I was given several mock-ups before I made the final decision. They are friendly, fast and reliable. Can't say enough good things about them.

Mark Dew


March 28, 2019

Great personalities behind this business, the work is detailed and looks great. Prices are fair, quality is great, nowhere else to look ,really. highly recommended!

Leo Baranes


March 22, 2019

I had a great experience from beginning to end. I got the exact customization of vinyl on my car that I wanted at a great price for the quality and detail that was completed, and the work was done in a timely manner. Highly recommended !

ALLAN CREARY


December 31, 2018

Chuck wrapped my boat and did an incredible job. I am very happy with it and would highly recommend Crd wraps to anyone. Very easy to work with and did everything as promised.Thank You.

Dino


December 30, 2018

CRD Wraps is my one stop shop for all of our design and print needs. Right from the first logo design, to the vehicle wraps, and every decal in between, their professional team has consistently knocked it out of the park.

Ashley Jones


December 17, 2018

Chuck Did a great job at designing the wrap for my company vehicle. He kept it in line with my company brand. The installation was perfect and looks great on my truck. Chuck was very personable and easy to work with. He met my timeline and kept me informed every step of the way. Pricing was very fair and worth every penny! Looking forward to working with CRD Wraps again when we get another truck! Hector Big Red Garage Doors

Hector Rivera


October 26, 2018

Upon reading such great reviews we had to set up a meeting with Chuck! The level of Creativity and Artistry speaks for itself. Chuck & his wife are a dynamic duo! I threw out a few ideas and BAM they came back with this insane design for our work van that is spectacular! I highly recommend their company CRD Wraps! There is no job to big for them. I've seen many designs of theirs and am beyond impressed. Thank you, thank you, thank you beyond measure, this is way better than I ever imagined.

Nadia Baldasaro


October 22, 2018